Klondike Gold Rush National Historical Park
Park Formation
Klondike Gold Rush National Historical Park was authorized in 1976 to preserve and interpret the history of the Klondike Gold Rush of 1897-98. The park consists of four units: a six-block historic business district, the Chilkoot Trail, a corridor comprising the White Pass Trail, and a visitor center at 319 Second Ave S (Pioneer Square), Seattle, Washington. The National Park Service Visitor Center at 2nd Avenue and Broadway in Skagway is a place to begin your exploration of the area's rich gold rush heritage.
Preserving History & Becoming an International Historical Park
From 1997 to 1998 the park celebrated the centennial of the Klondike Gold Rush. The Klondike Gold Rush National Historical Park, managed by the U.S. NPS and Parks Canada, became an International Historical Park on August 5, 1998. The National Park Service has been instrumental in preserving and restoring historic Skagway, and supports the community in its revival as a historical entity. In all, the park has restored 14 of the 15 historic buildings it purchased for their gold rush era significance. Six of the restored buildings have been leased as businesses (look for the brass plaques outside the entrances). While other historical buildings house the Visitor Center and administrative offices, staff housing, or like the Mascot Saloon and the J. Bernard Moore House, serve as exhibits. The Moore House, built by the  visionary founder of Skagway, Captain Willia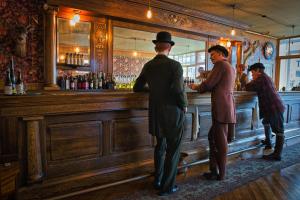 m Moore, and his son J. Bernard Moore is a popular attraction. It is restored to its 1904 appearance and furnished with many original family possessions, detailing what family life was like in an Alaskan pioneer town.
Plan your Skagway Adventure!
A variety of programs and services are offered from May to September. The Visitor Center occupies the restored 1898 Railroad Depot located on 2nd & Broadway, displaying permanent and seasonal exhibits from the turn of the century and providing visitors with information on the area's natural and cultural resources and recreational opportunities. Many free activities are offered at the National Parks Visitor Center, including regular showings of historic films; Ranger presentations on a variety of topics; and special presentations.  The Chilkoot Trail, "the world's longest outdoor museum" is the beginning of the route to the Yukon goldfields. It provides a thrilling 33 miles of spectacular hiking from tidewater at Dyea to Bennett Lake in Canada (17 trail miles in US; 16 miles in Canada). Persons considering this adventure should visit the Trail Center on Broadway, between 5th and 6th Avenues, open from May to September. 
Click here to visit the Klondike Gold Rush National Historical Park web site.