Shopping
Visitors frequently comment that shopping in Skagway is the best in Alaska, thanks to the quality, variety and value of the items you will find in our centrally located shopping district.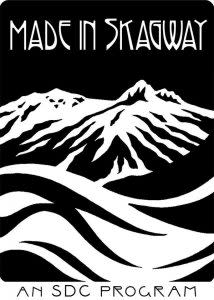 . Gold Rush-era buildings now house many local businesses. Wander shop-to-shop along the boardwalks of the historic business district, and you will retrace the steps of earnest stampeders as they outfitted for the Klondike. Throughout the district, false-fronted buildings press against boardwalk-lined streets, creating an atmosphere of fun and excitement unequaled in the region.
There are plenty of opportunities to find work by Skagway's artisans.  Look for the 'Made in Skagway' logo for products ranging from ivory, wood, gold, silver, clay, pen & ink, oil and watercolor to locally crafted beverages , tinctures, soaps and more.  
Long winter nights lead to abundant creativity in the north. It also makes shopping in Skagway a treat for the art enthusiast. Skagway's…
Look for the 'Made in Skagway' logo for products ranging from ivory, wood, gold, silver, clay, pen & ink, oil and watercolor, to…