Gardens
Visitors have long remarked about the enormous vegetables produced on Alaska's farms. Although most farms are now located near Palmer or Delta Junction, Alas­ka's agriculture really took root here in Skagway. Our good soil, adequate moisture and long summer days translate into bountiful crops.
The height of the Gold Rush had barely passed when local residents began exercising their green thumbs. One family grew potatoes in 1898, and the following year a visitor gushed that "all sorts of vegetables are grown in the gardens" here. The area's potential as a farming center grew. Local farms were prominently mentioned in several early Agricultural Department publi­cations, and the town was seri­ously considered as a site for an agricultural experiment sta­tion. It was flower gardens, however, that soon overshadowed vegetable produc­tion. By 1905, a White Pass Railway brochure proclaimed the beauty of Skagway's "flowers, trim lawns and prolific gardens."  The Blanchard Garden was the most publicized and for years held the record for  America's largest dahlia.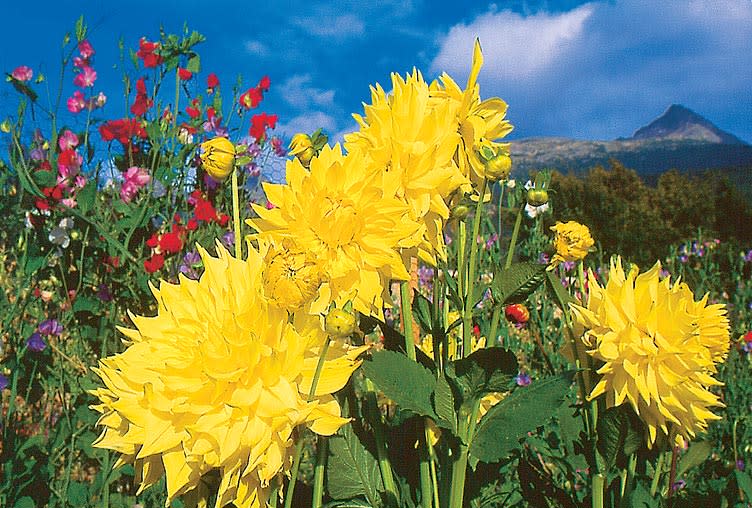 Local jeweler Herman Kirmse sponsored a local garden contest, which became so successful that many people from outside Alaska were attracted to it.
In 1910, the Skagway Commercial Club declared the town "Garden City of Alaska."  The name has stuck for many years, but the title was not official until former Governor Steve Cowper signed the garden city proclamation in 1988.
The garden club is responsible for the row of mountain ash trees on the road to the ferry terminal and many of the flower boxes you see in the Historic District. We hope you enjoy our gardens…they are part of a great Skagway heritage.
Klondike Gold Rush National Historical Park was authorized in 1976 to preserve and interpret the history of the Klondike Gold Rush of 1897-98. The…
The Chilkoot Trail is a 33-mile trail through the Coast Mountains leading from Dyea, Alaska in the United States to Lake Bennett, B.C., in Canada.